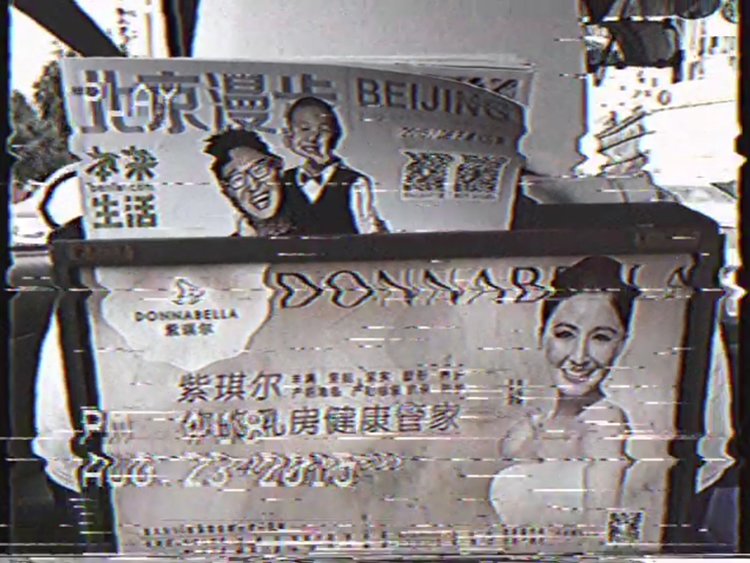 film still 1
Aged fake ancient (The wander of Beijing)

2016, on-going
60 seconds * 60 minutes * 24 hours * 365 days = 31536000 seconds
Color
Sound
Single channel video projection in cinema
Audience required wearing ear stuffs for watching
"Aged fake ancient" is artist, filmmaker Qi You's first film after she has returned to Beijing after her 3 year MFA study in United States. She used an iPhone on VHS cam app to document the changes of Beijing from her daily trips in local taxis. Holding a selfie stick as a special tripod creates a unique moving-image atmosphere of waves. The work is composed of every single ride in narrative: getting in the cab, constantly in conversation with local cab drivers, getting out of the cab. As Qi view that the Beijing local taxi driver offers a very real perspective on the city's growth at a daily pace.
Amazingly, these natural topics happened with each Beijing taxi drivers' relaxing chatting are quite similar in their profound, thoughtful, humorous ways. For example the memories of Beijing of the past became the most common content from their words. As Qi's video work always been explored the possibilities of seeing and listening, this documentary became very interesting between what we are watching is the spectacle of Beijing now, but what you are listening is the documentary of the memories of the real Beijing in the local folks' eyes. The old locals' nostalgic expression gives the viewers an experience of this gradually disappearing community of Beijingers by imagination of the audience.
During the screening of this film, the audience was provided ear muffs for this double documentaries experience. Wearing ear muffs as barrier for the voice of truth about this city's changes creates each inner spaces for the viewers. Instead of waiting to listen passively in the theater, it makes the audience get to hear their own breathing sound than anything.
She keeps the whole quality of the duration in this bleached out fake VHS effect that provide the context of aged time. With the view of cab window's frame, we have been pushed as observers in the cab, face to face with the strangers on the street. Faces been zoom in weirdly close that we can't tell the character of them, only the lost expressions.
Davi D. ross
2016
年久虚假的古人(北京游荡)

2016-至今
60秒,60分,24小时,365天,即31536000秒
彩色
声音
单频投影
观众要求佩戴耳塞观看
"年久虚假的古人"是艺术家、电影创作者尤琦在经过3年在美国的研究生学习之后拍摄的第一部影片。她使用Iphone手机和录像镜头应用程序从她每日乘坐当地出租车的旅程之中去纪录北京的变化。手持自拍杆作为一种特质的三脚架创造出了一种独特的具有运动影像氛围的挥动。这件视频将每次乘车过程都纳入叙述:进入出租车、与当地出租车司机不停歇的交谈、离开出租车。在尤琦的观点中,当地的出租车司机为城市的发展和日常节奏提供出了一种非常真实的视角。
令人惊奇的是,这些自然发生于每次出租车的乘坐之中的放松交谈的话题,有着非常相同的深厚感、深思性和幽默感。例如,关于对旧时北京的记忆是他们谈话内容最共同的部分。就像尤琦的其他作品一直在探索观看和聆听的可能性一样,这件纪录性影片在我们所观看到的现在的北京景观,和我们所听到的当地人眼中的回忆叙述当中变得十分有趣。这些旧时的当地人充满乡愁的表述,通过观者的想象,给予观者一种关于正在逐渐消失的北京人群体的感受。
在影片反映时,为了更好体验这种双重纪实感,耳塞被提供给观看者们。佩戴耳塞使观者与真实的城市变化的声音相隔离,同时在每个观者内心创造出内在的空间。这使得观者可以更清晰地听到自己呼吸的声音,而不是在剧场经历中被动地等待声音的发出。
她将整个影片的质感都保持在一个褪色的、虚假录像效果当中,为古旧的时代提供了相应的语境。透过出租车车窗所构成的框架,我们被迫成为了车中的观察者,与大街上的陌生人面面相观。这些人的面部被奇怪地聚焦和拉近,使得我们无法识别他们的身份,只剩下缺失的表情和面容。
达维 D. 罗斯
2016
译:罗可一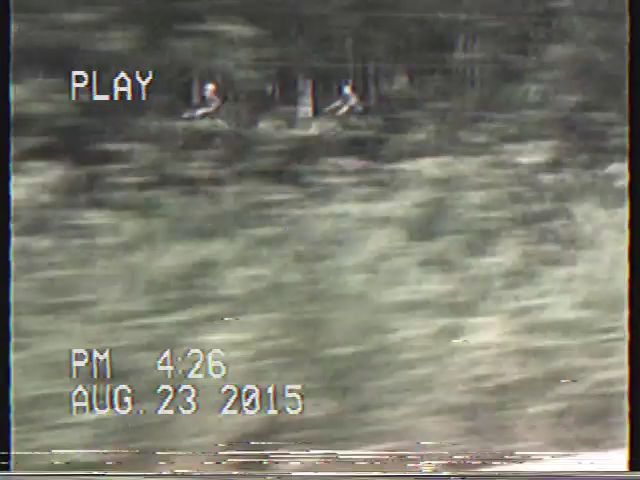 film still 2